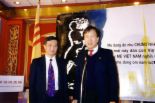 paper_due_tomorrow asked:
We're a high school robotics club and compete against colleges like MIT, Duke, and Cornell every year in San Diego. We are running on a tight budget and would like to do some major fundraising to reduce our cost. We are looking at three to four digits fundraising. Any ideas would be greatly appreciated.
Also, if anyone has connections to major companies that would be interested in funding us, please help out.
Thanks.
Thank you Probslvr, but unfortunately San Diego State University is also in the competition. I really don't think they'd be happy to play against their own school.