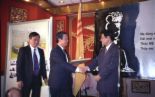 Laura J asked:
Hi everyone,
I need effective and easy fundraising ideas for a horse rescue in Maryland where I am a volunteer. We have a volunteer shortage and are extremely low on funds, to the point where we may eventually need to close a farm if things continue this way. We care for around 100 horses at our two farms, and around 50 fosters, as well as some donkeys, mules, and ponies.
I need some ideas for fundraising that will not take a great deal of manpower – ideas for marketing and public awareness activities are also welcome.
By the way, more info about the rescue can be found at www.horsenethorserescue.org – if you are able to volunteer or provide online donations, especially at this difficult time, please check the site for more info. We would appreciate it!
Thanks for the ideas and assistance.